Princess Anne opens domestic abuse 'LiveLink' for West Yorkshire victims
27th February 2020
Her Royal Highness, The Princess Royal visited Victim Support's Wakefield hub on Tuesday (25 February) to launch an innovative new LiveLink for people harmed by crime in West Yorkshire.
The new service, being delivered by Victim Support, will allow victims of domestic abuse to give evidence remotely via video streaming. The move will allow victims to engage with the Criminal Justice System without needing to attend a court building or risk coming into contact with the perpetrator.
After unveiling a commemorative plaque at the facility, Princess Anne spent time meeting victims and witnesses of crime, who explained the emotional and practical importance of being able to give evidence safely and remotely.
The LiveLink facility will link into courts across West Yorkshire.
Lesley McLean, Contracts Manager for Victim Support (West Yorkshire) said: "Court buildings themselves can be intimidating, especially as victims and witnesses enter through the same shared entrance as defendants, offenders and their families. For victims of particularly serious crimes such as domestic abuse, this can be incredibly stressful.
"Many trials collapse before sentencing, as the number of victims attending court to give evidence is low. This LiveLink facility will help to empower victims to give evidence from a completely separate building, helping to relieve anxiety.
"We are delighted to offer this much-needed facility and, in the longer term, we hope to extend this service to other vulnerable adults, children and young people."
The LiveLink facility was funded jointly by West Yorkshire's Police and Crime Commissioner, Mark Burns-Williamson and West Yorkshire Police, following the closure of Wakefield Magistrates court.
West Yorkshire's Police and Crime Commissioner, Mark Burns-Williamson, said: "I pledged to put victims first and it was fantastic to welcome Princess Anne to Wakefield, as part of our drive to raise awareness of this new service that I have commissioned here in West Yorkshire.
"The LiveLink will offer vulnerable victims and witnesses of incidents such as domestic abuse a safe, secure and welcoming space to give evidence, removing barriers to justice and improving outcomes for those harmed by crime.
"This service importantly eliminates the possibility of seeing the defendant in a court setting, as well as helping to alleviate other potential issues such as travel and childcare. I look forward to seeing the results and the impact it will have."
West Yorkshire Police Chief Constable, John Robins QPM, said: "This suite, and one like it in Calderdale, make a tangible positive impact on outcomes for victims. It takes away the need for vulnerable and intimidated victims and witnesses to enter a court.
"For example, a third fewer Domestic Abuse cases are failing at trial since the Live link facility was introduced in Calderdale.
"Services like this mean that more victims are engaging with the criminal justice process for longer enabling more cases to reach a conclusion at court, confidence in the criminal justice system is improved and importantly victims feel more supported.
"This puts vulnerable victims and witnesses where they should be, at the heart of the criminal justice process"
Victim Support is an independent charity providing emotional and practical support to people affected by crime. Victims do not have to report a crime to the police in order to access assistance, and our free, confidential Supportline is open to callers 24/7: 08 08 16 89 111.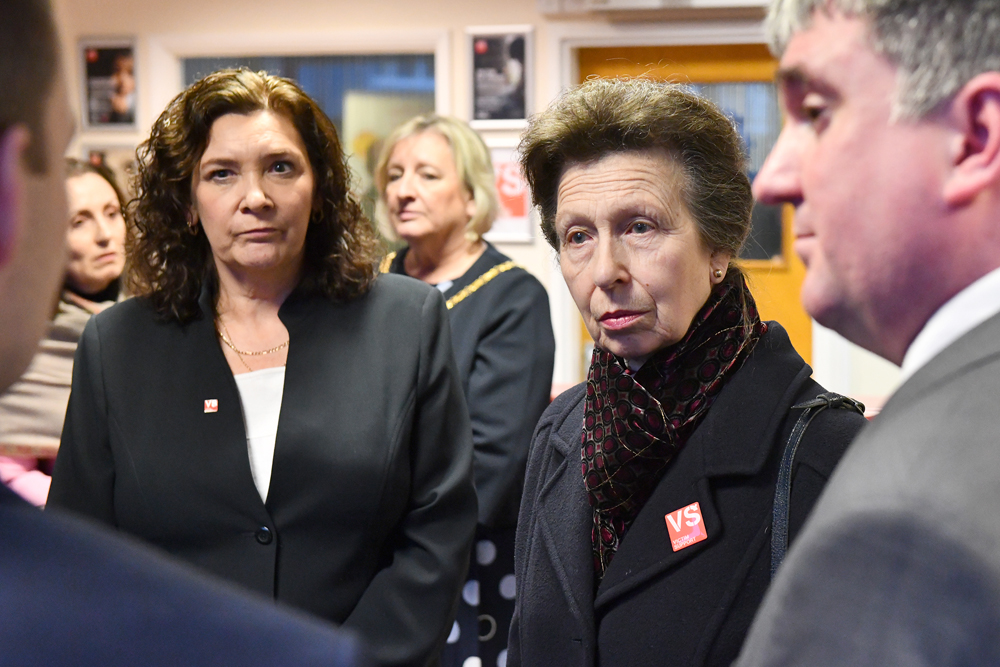 Lesley McLean, Contracts Manager for Victim Support (West Yorkshire) and Princess Anne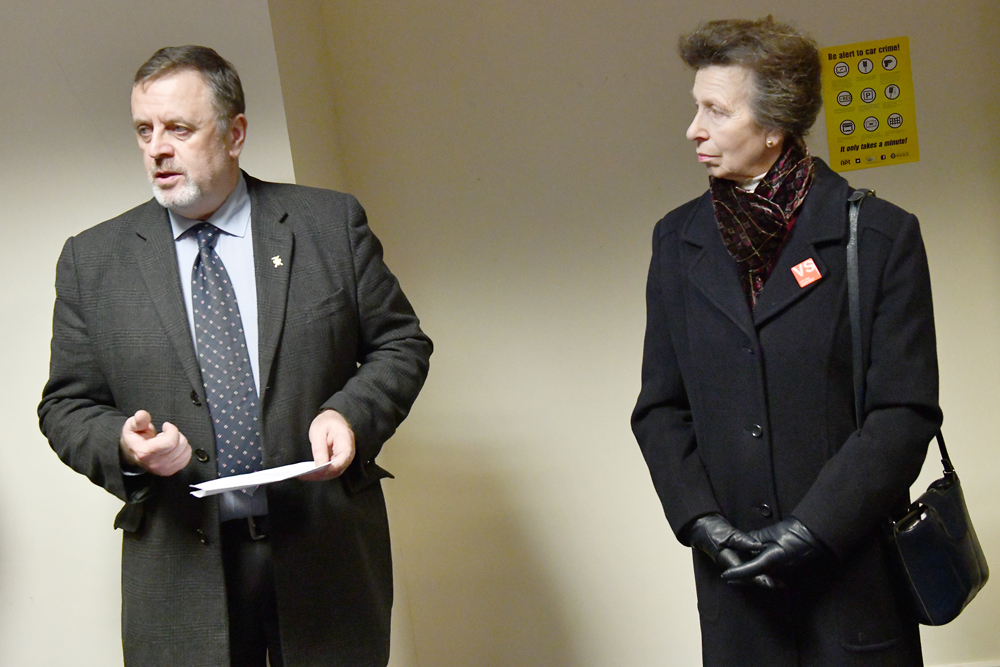 Mark Burns-Williamson and Princess Anne
Princess Anne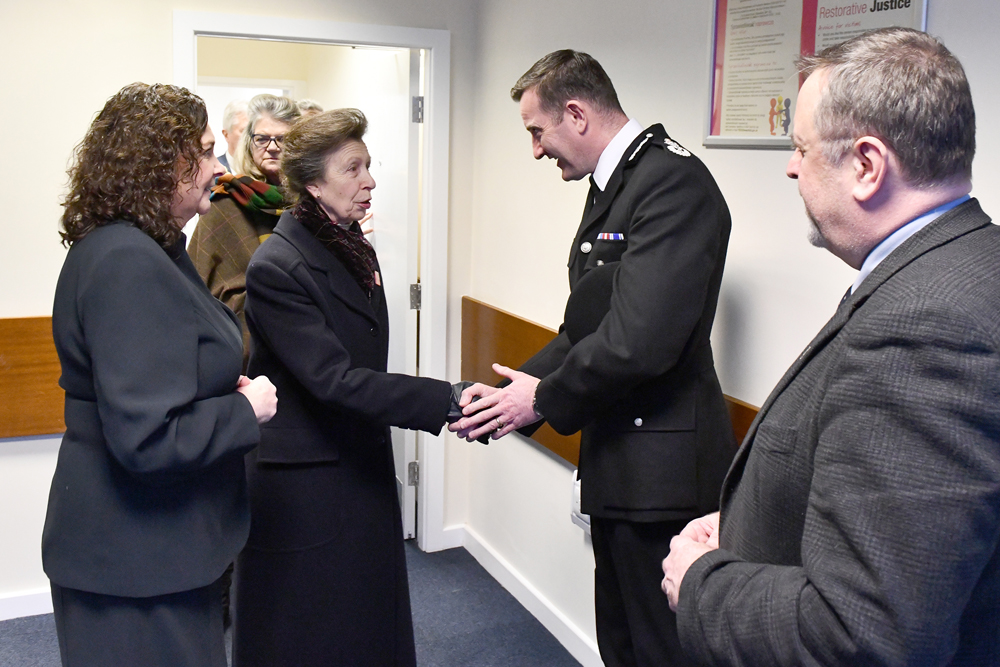 Lesley McLean, Contracts Manager for Victim Support, Princess Anne, Chief Constable John Robins and Mark Burns-Williamson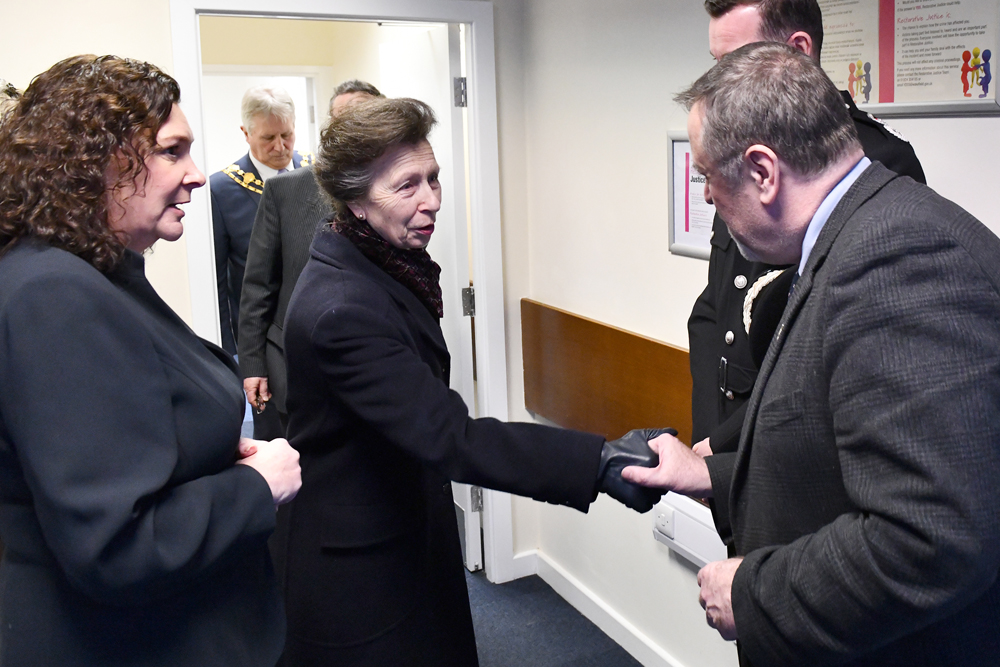 Lesley McLean, Contracts Manager for Victim Support, Princess Anne, Chief Constable John Robins and Mark Burns-Williamson
More like this on our website